About
Transform • Update • Remodel • Renew • Restore • Rejuvenate • Revitalize •Refresh
Andrew S. Brodtman, B.L.A.  Owner, Senior Landscape Designer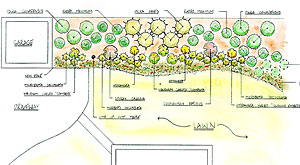 Andrew is a graduate of the State University of New York's S.U.N.Y. College of Environmental Science & Forestry at Syracuse and has a degree in Landscape Architecture and Ornamental Horticulture. He has worked for many of New York's finest nurseries and has served clients by designing and drafting residential and commercial master plans. He was on the staff at Twombly Nursery from 1995 - 2018.  And as Owner and Senior Designer for over 12 years.
Andrew has been working in all aspects of the nursery business for the last 35 years. He realized his passion for design while installing landscapes during his high school days. Since then he has received his degree in Landscape Architecture & Ornamental Horticulture from State University of New York's College of Environmental Science and Forestry at Syracuse. He and his family live here in Monroe, CT.

Andrew's designs are inspired by past experience and current trends. He likes to design in a naturalistic style but is also trained in formal layouts. Site planning, estimating, construction, project management and plant culture are just a few areas of expertise that Andrew brings to each project. His 22+ years at Twombly Nursery have given him the experience needed to help each of his clients realize the potential of their property.
Throughout the years, I've selectively cultivated relationships with the highest quality growers of rare and hard to find plant materials, amazing flowering trees, shrubs and roses, evergreens and perennials.
I've also put together a team of expert installation professionals and masonry craftsmen. Coupled with my years of experience offering the highest quality landscape design and installation services, Landsculptors will bring to you everything you've come to expect from me over the years, and more.
In addition, I'll also be able to offer custom carpentry and decking, fencing, arborist services, grounds keeping and maintenance, lawncare and snow removal.
- Andrew Brodtman
Call Andrew to discuss and schedule your project: 203.673.5634