Design - Masonry Services
Transform • Update • Remodel • Renew • Restore • Rejuvenate • Revitalize •Refresh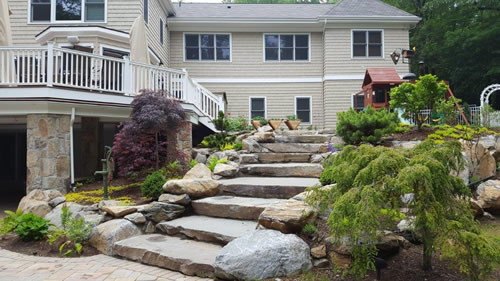 Landsculptors offers a full range of masonry services to complement and enhance our plantings. Whether you are in need of a bluestone patio or a natural garden wall, we bring years of experience to each project. Walkways, formal walls, stone paths, boulder placement, steps, and driveway construction are all possible with Landsculptors.
We are not only equipped for the construction of these hardscape features but we bring a distinctive flare to each project. There is no need to take a cookie cutter approach to a wall or path when each site offers the chance to be inventive and creative with a solution.
Imagine sitting on a raised, circular patio supported by natural stones and taking in a sunset on a warm summer's evening. Or you may want to stroll down a winding path of stone and relax at a custom water feature of select boulders and babbling water. If your property is lacking that certain element that would unify the landscape - you may be in need of quality hardscaping to enhance your outdoor living space. Call us today to discuss your needs, we'll be happy to be of service.
Call Andrew to discuss and schedule your project: 203.673.5634